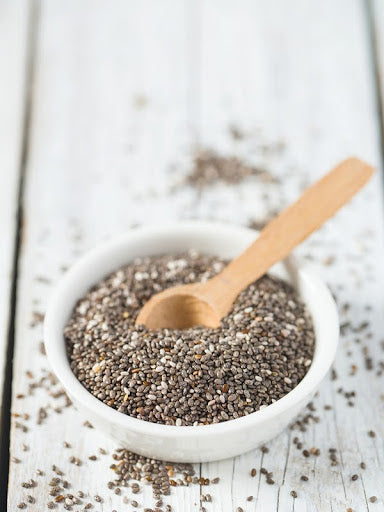 When it comes to incorporating the all-important Omega 3 fatty acid into your diet, fatty fish is the food that most people turn to. It is important to note that the Incorporation of Omega 3,6, 9 benefits many individuals' health and well-beinging. That said, vegans and vegetarians don't have to lead Omega 3-less lives—many vegan diet foods are rich in this beneficial and essential fatty acid, too!
Consuming Omega 3 fatty acid can significantly improve your health and help keep your heart, lungs, and immune system functioning properly. But how do you know which vegan Omega 3-containing foods to include in your vegan diet? Fortunately, we've got you covered.
Below you'll find our four favorite vegan foods that are high in Omega 3 fats. After reading this list of nutrient-packed vegan goodies, you'll be on your way to the grocery store —and better health.
#1 Flaxseed
Although flaxseed has been used for thousands of years, especially in the Middle East, it's recently entered their dietary "high Renaissance," lending itself well to smoothies, soufflés, and other succulent dishes.
High in protein, fiber, and fats, flaxseed is a nutritionist's dream. It's inexpensive and versatile, easy to use, and hard to resist. The best part? It's 100% vegan.
Let's break down this important seed further by looking at its Omega 3 content, cost, and popular uses.
Omega 3 Content
Flaxseed is a fatty acid powerhouse. Just one tablespoon of ground flaxseed provides a whopping two grams of Omega 3 fatty acids.1
Although you can eat it whole, most nutritionists recommend grinding flaxseed down into a fine powder. This makes it easier for your body to absorb the Omega 3 fats.
Cost
Flaxseed is one of the least expensive seeds on the market. In general, expect to pay the following prices for flaxseed:
Low quality

– $0.14/ounce to $0.28/ounce

Mid quality

– $0.31/ounce to $0.48/ounce

High quality

– $0.50/ounce to $0.93/ounce
Of course, the price of flaxseed, like all goods, can fluctuate based on location, brand, and other factors. It's best to shop around to make sure you're getting the best deal on this delicious superfood.
Popular Uses
As stated above, flaxseed, especially ground flaxseed, is incredibly versatile. Take advantage of this food by sprinkling it into or onto the following:
Muffins, cakes, and brownies

Scrambled eggs

Yogurt and ice cream

Smoothies and shakes

Condiments, such as mayonnaise and mustard
Given its versatility, you really can't go wrong with this small, yet powerful, seed.
#2 Chia Seed
An ancient seed originating in Central America, chia seed is similar to flaxseed in that it's high in fiber, fatty acids, and protein. But where it differs is taste. Whereas flax seed can have a nutty or toasted taste, chia seed is relatively bland on its own.
That said, chia seed can be added to many dishes, making it the perfect healthy (and crunchy) addition to almost any vegetarian meal.
Omega 3 Content
In terms of Omega 3 content, chia seed is the seafood of the seed world. That's because it packs the highest amount of Omega 3 fatty acids of any non-marine food.
(One tablespoon of chia seed brings in a mind-blowing 2000 mg of Omega 3!)2
Of course, some recipes, especially bulk recipes, may call for more than one tablespoon of chia seed. Your Omega 3 intake could thus be substantially higher, depending on how much you sprinkle onto your meal.
Cost
Unlike flaxseed, chia seed can be a bit expensive. However, given its amount of Omega 3 per serving, one bag of chia seed can go a long way.
For a 12 ounce bag, you can expect to pay around $10 dollars.3
Popular Uses
Like flax seed, chia seed's size, texture, and versatility mean it can be added to many dishes. Check out the following popular ways to incorporate chia seed into your diet:
Mix together a teaspoon of chia seed, a splash of lemon juice, and 12 ounces of water to make a Chia Fresca.
Add chia seed to your yogurt or pudding.
Add it to bread doughs and cake batters.
Make your morning smoothie even healthier by adding it alongside peanut butter and banana.
Make your Sunday dinners even healthier by sprinkling chia seed atop vegetables and lean meats.
From drinks to delectable dinners, chia seed can turn any meal into a great source of Omega 3.
#3 Seaweed
Enjoy the taste of the sea (without tasting its swimming marine inhabitants) by incorporating seaweed into your diet.
High in important vitamins and minerals, seaweed's most prominently featured in Asian cuisine but has gained tremendous popularity in the West in recent years.
This is because seaweed is delicious and multifaceted, capable of turning many dishes into scrumptious explosions of umami. And like flaxseed and chia seed, seaweed's exceptionally high in healthy fats like Omega 3 fatty acids.
Omega 3 Content
Although seaweed's Omega 3 content differs based on seaweed type, a 1 ounce serving of wakame seaweed yields around 52 mg of Omega 3.4
That said, many dishes, especially salads, require more than a single serving, meaning your Omega 3 intake will likely be higher.
Cost
The price of seaweed is impacted by many factors, most notably location and type. Like any seafood, living closer to the ocean means you'll likely pay less for seaweed than if you lived in, say, Wichita, Kansas.
Similarly, the price of seaweed's impacted by the way it's manufactured: fresh or in wafer form. That said, seaweed is really inexpensive. You can expect to pay less than $15 for 1 pound of seaweed.5
Popular Uses
There are many popular ways to incorporate these leafy greens into your diet. These include:
Seaweed salads

Stews with seaweed

Seaweed sushi

Seaweed wraps with veggies

Seaweed smoothie

Seaweed chips
Seaweed's not for everyone, but if you crave healthy, salty, and umami-flavored foods, seaweed should definitely be in your fridge or pantry.
#4 Tofu
Although tofu has been traditionally thought of as a vegetarian or vegan food, the truth is, tofu's for everyone. That's because this delicious soy-based food is high in protein and fiber, and can be used in lieu of meat in many dishes.
It's also high in Omega 3 fatty acids—making it tasty and healthy.
Omega 3 Content
Tofu's really high in a specific type of Omega 3 called alpha-linolenic acid (ALA).
While the specifics of this fatty acid type aren't important, the health benefits are. Studies show that ALA omega 3s may reduce the risk of heart disease. Plus, one ounce of tofu delivers 1.4 grams of Omega 3 fatty acids, making tofu a worthwhile addition to any diet.6
Cost
One of the best things about tofu is that it can be used in place of meat for a fraction of the cost. On average, tofu costs around $2.50 per pound.7
Popular Uses
Unlike the rest of the vegan Omega 3 foods on this list, tofu may be the hardest to prepare. This is because making great-tasting tofu can take time and practice.
That said, you don't have to be a Michelin-star chef to cook delicious tofu meals.
Hone your tofu-cooking skills and improve your health by making the following tofu-based dishes:
Tofu stir fry

Tofu scramble

Baked tofu

Tofu tacos

Tofu with leafy greens

Baked tofu nuggets
Of course, you can always eat tofu straight out of the package, but it may be bland. Cooking's the best way to give tofu the flavor you deserve.
#5 Cymbiotika
While not a food, Cymbiotika is a vegan, natural, and organic company that seeks to empower people to reach their health goals. Reaching these goals begins with our line of excellent Omega 3-filled products that may help fortify both your body and mind.
Let's take a look at a few of our most popular products:
The Omega
– Chock full of Omega 3-containing ingredients, such as organic sea buckthorn oil and Icelandic astaxanthin algae, The Omega is a product that may greatly help you maintain your heart health, as well as strengthen your cognitive functioning. This is because The Omega delivers two crucial Omega 3 acids: docosahexaenoic acid (DHA) and eicosapentaenoic acid (EPA).
Golden Mind
– One of the highest quality nootropics on the market, Golden Mind may help users achieve peak mental performance. Containing essential Omega 3 oils, such as sea buckthorn oil and sunflower oil, Golden Mind's a product that may help prevent cognitive decline by strengthening neural networks.
Adrenal Super Tonic
– Containing organic flaxseed glycerin (among its many other helpful nutrients), Adrenal Super Tonic is more than a mind booster. It's a product that may help stabilize cortisol levels, which may lead to increased mood, lower blood pressure, and better digestive health.
Vegan foods are great ways to get your daily Omega 3 requirements. But sometimes, we need just a little more. That's where Cymbiotika comes in. With our line of products containing Omega 3, we've got your back when it comes to absorbing those all-powerful fatty acids.
Cymbiotika: For All Your Vegan Omega 3 Needs
Living a healthy vegan lifestyle means more than just eating delicious plant-based foods. While it's easy to get lost in the deliciousness of cauliflower tacos and sweet potato burrito bowls, as a vegan, you must also strengthen your body with vegan foods high in Omega 3s for full-body wellness.
The good news is that, in addition to Cymbiotika's omega 3-packed supplements, there are also many great vegan foods high in Omega 3—from flaxseed to tofu. However, if you're looking for a one-stop shop, look no further than Cymbiotika.
Our organic, vegan, and Omega 3-rich products can help you meet your Omega 3 needs and live the active lifestyle you crave. Set a new standard with Cymbiotika.
Sources: