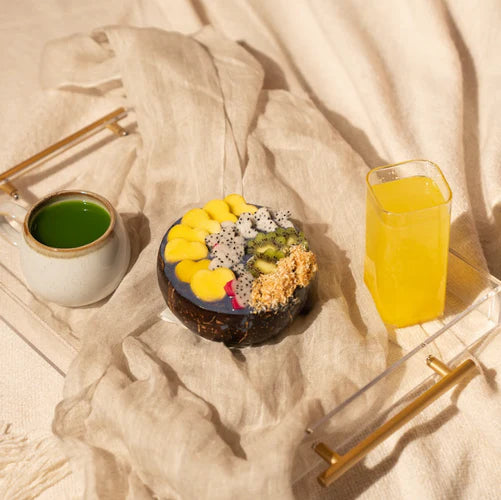 RECIPE
Three Refreshing Summer Ready Recipes
7 min read
Enjoy the warmer weather with three refreshing, summer-ready recipes: Cymbiotika Orange Juice, Matcha Focus, and Summer Smoothie Bowl 🌸
Cymbiotika's "Orange Juice" 🍊
Here's what you'll need for a twist on Cymbiotika's "Orange Juice:"
How to enjoy Orange Juice 🍊

Add 6-8 oz of spring water to a glass
Squeeze 1 packet of Vitamin C
Stir and enjoy!
Matcha Focus Recipe 🍵
On mornings I don't want to drink coffee, Cymbiotika's Matcha is my go-to drink. It's jam-packed with antioxidants and essential nutrients that will help keep me alert, energized, and focused, all day long. Here's what you'll need:
How to enjoy Match Focus 🍵
Add ½ tsp (1g) of matcha powder into a mug
Pour 1-2 ounces of hot water, mix with a bamboo whisk, and blend until smoothie.
Slowly add an additional 4-6 ounces of hot water, depending on the preferred strength.
Optional: If using a blender or electric whisk, combine ½ tsp (1g) of matcha powder with 6-8 ounces of water.
Blend and enjoy!
Note: It's okay to use hot water–just make sure it's not scalding hot.
Summer Smoothie Bowl 🍓🫐🍇
Rise and truly shine with this delicious Summer Smoothie Bowl recipe. Not to mention it's full of antioxidants, protein, and other vitamins you need to support your health and well-being. Here's what you'll need:
Coconut water
Coconut cream
Butterfly pea
Frozen bananas
Frozen blueberries
Cymbiotika's Plant Protein
Ice
Mango
Dragon Fruit
Kiwi
Toasted Coconut
How to enjoy this Summer Smoothie Bowl 🍓🫐🍇
Add coconut water, coconut cream, butterfly peas, frozen bananas, frozen blueberries, one scoop of Plant Protein, and ice into a blender.
Blend until you have a thick, soft-serve consistency.
Add your smoothie base into a bowl and flatten.
Add sliced mango, dragon fruit, kiwi, and toasted coconut on top.
Enjoy!
Optional Toppings
I love adding fresh fruit and toasted coconut flakes for texture and crunch. However, you can add whatever fruit or toppings you'd like! Here are some other favorites:
Chia seeds
Granola
Hemp seeds
Strawberries
Cacao nibs
Sliced fruit like bananas or berries
Did you make this recipe?
If you made this recipe, tag @cymbiotika on Instagram and use the #cymbiotika hashtag! We'd love to see your creations.

Love,
Kayla

Looking for more recipes?
How to make a Traditional Green Tea Matcha
How to make a Pink Drink (for Heart Health!)
How to make Healthy Fruit Roll-Ups (with Vitamin B12!)

Kayla Porter
Author

I'm a health enthusiast and passionate writer eager to bring my passion for fitness and well-being to Cymbiotika. I strongly believe in moving your body and exercising regularly to achieve optimal health. Fun fact about me: I love pilates! One of my favorite supplements to take after a hard workout is Cymbiotika's Longevity Mushrooms. Not only does it help me recover faster, but it has multiple benefits that support my immune system and overall health. I'm excited to continue my health journey with Cymbiotika and share tips and tricks to work towards living your best life!